Whoever said you shouldn't judge a magazine by its cover was wrong. These front pages were flying off the shelves and picking up the headlines. Today I will show you my top picks for the ten controversial magazine covers so far.
1. Britney Spears at 17 (Rolling Stones – April, 1999)
In 1999, Britney had just stepped foot on the road to super stardom, and she was perfecting her girl-next-door image. Employing the same tactics as she had for her Baby one more time music video, Spears appeared on the Rolling Stone cover as a mixture of sweet and sexy, innocent and inviting. Clutching a Teletubby and gossiping on the phone, she's uncomfortably young. Wearing an open shirt, black bra and pajama shorts, she's undeniably attractive. It's PR Perfection.
2, Breastfeeding Mom (Time Magazine – May, 2012)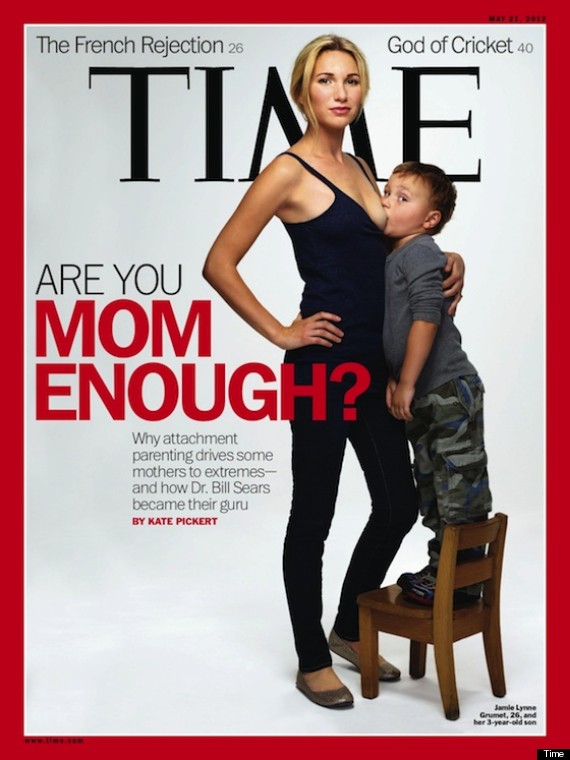 A magazine featured on its front cover image of a mother breastfeeding her newborn child might raise a few mutterings here and there. Substitute the newborn with a walking and probably a talking three-year-old boy, and you get colossal controversy. The mother in question is Jamie Lynne Grumet, a part time model who with the help of her son, achieved world wide fame. The main problem here isn't the boob, but the mouth around it.
3. Princess Diana (People, September, 1997)
Following the tragic death of Princess Diana, People dedicated their September 1997 issue the following month to her legacy. Princess Diana was no stranger to People magazine having graced the cover more than 57 times. However this tribute magazine sold more than 3.1 million copies making it a the second best selling issue of People of all time.
4. Alexander McQueen (The Face Magazine – April, 1998)
The Face magazine published a striking cover photo of British Designer, Alexander McQueen in 1998. The grey and white photo with blood-red eyes accurately captured the designers' morbid and Gothic fascination. The caption read McQueen is dead: Long live Alexander McQueen. The creepy cover photo and prophetic caption became even more eerie after McQueen hung himself in 2010.
5. Muhammad Ali (Esquire – April, 1968)
In April of 1968, Esquire published a cover photo depicting Muhammad Ali as St. Sebastian. The cover was in response to Muhammad Ali being stripped of his titles, denied the right to fight, and sentenced to 5 years in jail due to his refusal to enter the Army during the Vietnam War. The boxer cited his religious beliefs as to why he would not enlist.
6. Tupac Shakur (VIBE – April, 1995)
The Vibe cover of Tupac made headlines not just for the artistic shot, but more so of the prophetic caption. It read, "This is my last interview. If I get killed, I want people to have the real story." Tupac was shot dead the following year in Las Vegas. Some have argued that Vibe was partially to blame for sensationalizing the beef between Tupac and Biggie and the West Coast – East Coast Rivalry,
7. John Lennon and Yoko Ono (Rolling Stone – January, 1981)
The cover of Rolling Stone cover of John Lennon Yoko Ono taken by Annie Leibovitz in 1981 became famous not for the celebrity couple, but because it was the last photograph of them taken together. Lennon was tragically shot 12 hours later. Rolling Stone had asked Leibovitz to get a picture of Lennon alone, but he refused to part with his wife.
Which notorious magazine did we miss? To get your copy of these magazines, head over to magazines.com and avail of their Valentine's Day Sale and save up to 92%!