Whether you're looking to beef up your video game library, get a nice gift for the video game enthusiast in your life, or just starting to dip your toes in the world of gaming, Black Friday and Cyber Monday are perfect times to get some great video games at great prices. But with so many video games on sale, how do you know what's good versus what's cheap?
Fear not: we're kind of gaming experts around here. And, more importantly, we're here to help you.
If you already read our great holiday shopping guide on the Nintendo Switch you're a step ahead of the game. If you haven't, no worries – this guide will give you exactly what you need. So, without further adieu, here are some games you should get during Black Friday and Cyber Monday.
$10 and Below: Bloodborne (I Can't Believe This Game is That Cheap!)
Our Pick: Bloodborne (PS4 Exclusive)

Right out of the gate there are some amazing $10 deals on games, but there can be only one winner in this category. So it makes sense that the winner would be in my top-five all-time favorite games. It may even be number one. I don't make that statement lightly: Bloodborne combines fast-paced action with blood-curdling horror. The game is unforgiving and unrelenting, but that makes every step you progress earned. Every boss you overcome is rewarding. There's nothing else quite like it in gaming. This game is *not* for entry-level gamers, or people looking for a relaxing experience. This game is tough, and won't quit until you beat it. From start to finish, it's one of the best gaming experiences you have. And at $10 there's a low risk in trying it.
Honorable Mentions: Nioh (PS4 Exclusive), The Last of Us (PS4 Exclusive), God of War (PS4 Exclusive)
$15 Range: Resident Evil 2 (This Amazing Game, at This Amazing Price)
Our Pick: Resident Evil 2
There is *a lot* of competition in this category. A lot. So this decision did not come lightly. However, a beautiful remake of a zombie horror classic that just came out earlier this year? It's hard to say no to what could end up being 2019's Game of the Year at 75% off. And there's a lot to love about this game. The graphics are gorgeous. The scares are there. The experience is both nostalgic and entirely new. Seriously, if you haven't played this game, Black Friday deals are the perfect time to get it. Note that Resident Evil 2 is available on both XBox One and Playstation 4, but check to ensure which one you're getting – and that it's the one on sale.
Runner Up: LEGO Harry Potter
You know what I like about the LEGO games? They're relaxing. I can play them with my little nephew, my wife, or myself. I can take them serious, or I can relax and goof around in them. Much like the LEGO toys themselves, imagination is what carries the LEGO games. So take one of the world's most popular toys and add one of the world's most beloved franchises, and what do you get? Yeah, a great deal! Absolutely *perfect* gift to get a child or younger relative, or someone who wants a more casual gaming experience.
Honorable Mentions: Spider-Man (PS4), Grand Theft Auto V, The Lion King/Aladdin Remastered, The Division 2
$20 Range: The Witcher 3 (Great Savings, Great Gaming)
Our Pick: The Witcher 3
This is such an odd category because it floats in between two big sales categories. You'll find a lot for $15 and a lot for $25, but not as much for $20. We have no idea why. Here's what we do know: at $20, the Witcher 3 is still one of the best buys you can make for video games. Not only do you get hours upon hours of (like, hours, talking in the hundreds here!) of content, you also get one of the most engrossing and dynamic fantasy worlds available in gaming. It doesn't hurt that Netflix is literally hurling money at their Witcher TV series. It's being called the next Game of Thrones, and regardless of how you feel about the ending, this can only be good news. So get ready for the Netflix show, or just experience one of the most developed and realized worlds in the history of gaming.
Honorable Mention: Days Gone (PS4 Exclusive)
$25 Range: Sekiro: Shadows Die Twice (You Literally Should Not Miss This Deal)
Our Pick: Sekiro: Shadows Die Twice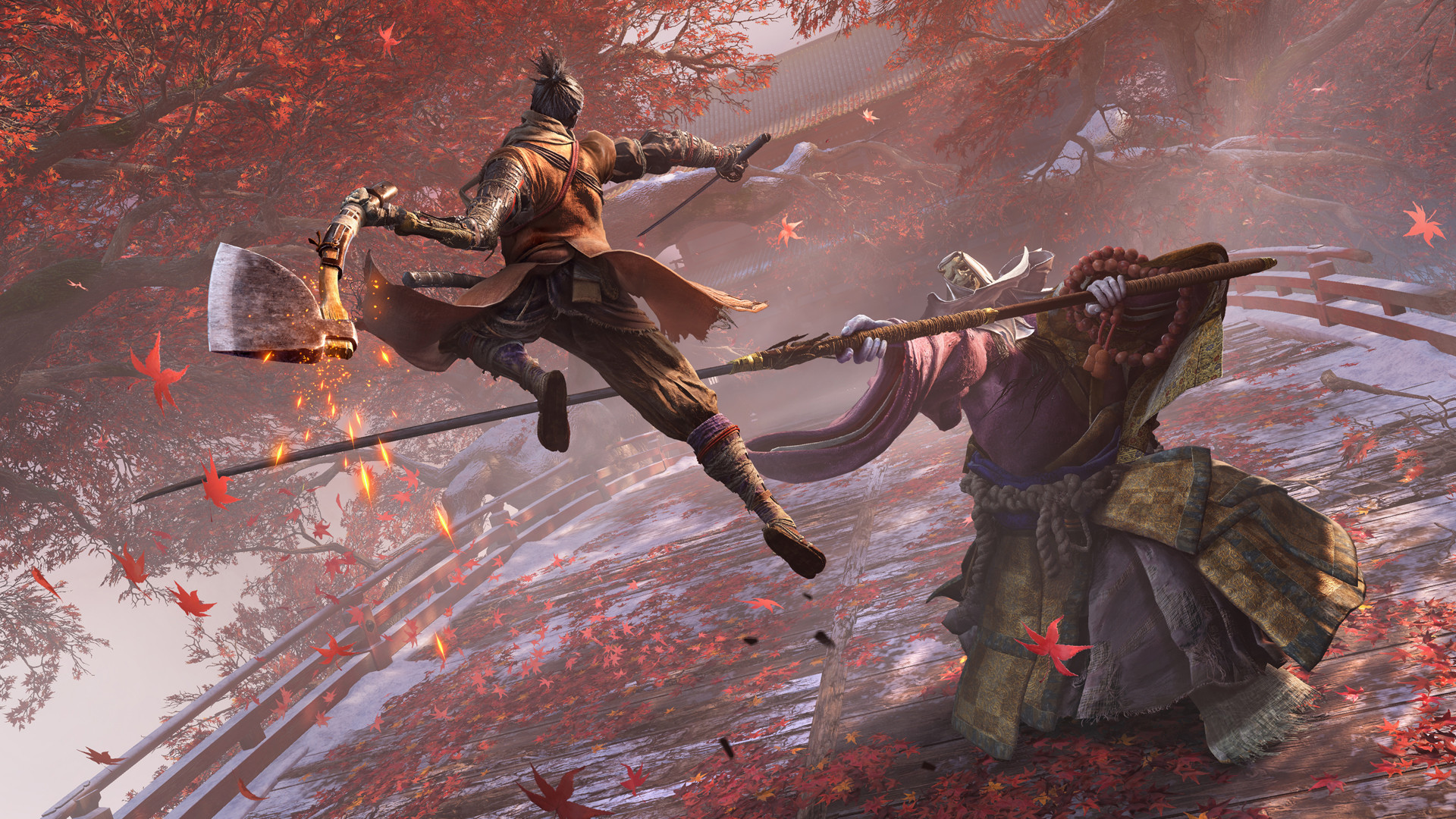 You've always wanted to be a ninja. That's not a question, just a statement of fact. And since it's a fact, we have great news: this category can make that happen. Take the creators of Bloodborne and Dark Souls, add a feudal Japan setting, and give you the power to be a literal ninja. You end up with what is my personal game of the year, and one of the best action games of the past few years. Sekiro: Shadows Die Twice is not a game for everyone. Much like Dark Souls and Bloodborne, this game is tough. However, despite the difficulty, Sekiro is really fun. Sekiro offers a lot, but the thing it offers most is the most engaging, involved, and exciting sword combat I've ever played. For you veteran gamers, this title may remind you of Tenchu, an old ninja game on the Playstation 1 and 2. There's a reason for that: Sekiro was originally going to be a new Tenchu game. A rose by any other name would smell just as sweet, and the same holds true for Sekiro. It is a fantastic ninja game, and if you can handle the difficulty there are tons to love.
Runner Up: Red Dead Redemption 2
I never played the Red Dead Redemption games very much. My Xbox 360 died while I was playing the first one, and the second one came out during an abundance of other games and I never got back to it. However, I swore that when the price went down I would pick it up because my friends all raved about this game. Well, the price is down, and now is the time to jump on what is considered one of the great western games ever made. It has a fantastic story, fun action sequences mixed with cathartic open-world exploration, and is considered one of the most realistic games of all time. Give it a look!
Honorable Mentions: Mortal Kombat 11, Diablo 3 (Nintendo Switch)
$27 Range: Madden 20 and NBA 2K20 (Literally Just the Sports Category)
Our Pick: Madden 20, NBA 2K20, FIFA 20, WWE 2K20
This is literally just the latest sports games at about half off. No real explanation on these. If you like sports games or know someone who does then this is a great bargain. That's it. Next category.
$30 Range: Legend of Zelda: Breath of the Wild (A Game You Don't Find This Cheap Ever)
Our Pick: Legend of Zelda: Breath of the Wild (Nintendo Switch)
There's something you need to know about Nintendo games and sales: they almost never happen. Outside of the occasional $10-$15 off, first-party Nintendo games (Mario, Zelda, Donkey Kong, etc) never go on sale. Ever. Ever. So, when there is a sale on Nintendo games you should be all over it. This year will be no exception, with plenty of amazing Nintendo Switch games getting 50% discounts from their MSRP. The reason we recommend Legend of Zelda: Breath of the Wild over all of them (and other games in this range) is simple. It's the best game ever made. Period. I love Bloodborne, and I think Sekiro could be my game of the year, but Legend of Zelda: Breath of the Wild beats them both. Why? The answer is everything. Combat feels great. Exploration is exciting without being disorienting. The music is a masterpiece. The story is told in a way no other Zelda game has attempted before it. Seriously, if Skyrim was the game that reinvented open-world exploration, Breath of the Wild perfected it. At $30 you would be insane to pass this up.
Honorable Mentions: Super Mario Odyssey, Super Mario Party, Splatoon 2, Borderlands 3
How to Get Started
These deals look good to you? Good, they do to us too. Here's even better news: some of them are available right now.
Since Black Friday and Cyber Monday ads are still trickling out, we took a look at three major ads to pull this list together: Best Buy, Walmart, and Target. All this info is available on their sites, and when you use Piggy you can find additional discounts and savings for shopping at each of these retailers.
We have the Black Friday shopping guides for each of these sites below, as well as a link to get the Piggy browser extension. It will automatically find the best deals and prices for you with these retailers and include coupons and cashback too. You're always getting the best deal with Piggy, and all you need to do is have the plugin on your browser and shop like you normally would. Give it a try, and be sure to keep checking back to this blog for more shopping guides for the holiday season!